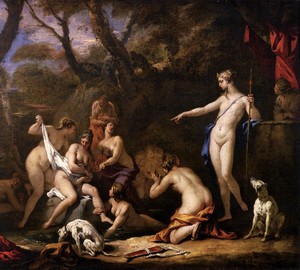 Description of the picture:
Diana and Callisto – Sebastiano Ricci. 1712-1716. Canvas, oil. 64×76
Bathing Diana, which in the III century BC. e. was identified with the moon goddess, the sister of the sunny Apollo, a cycle of compositions was dedicated. Canvas of Titian on this plot has enjoyed wide popularity. The virgin hunter was surrounded by her confidants, virgin nymphs. One of them, Callisto (which means "more beautiful than all"), was seduced by the Supreme Olympian Zeus.
It goes without saying that for Sebastiano Ricci (1659-1734), a famous Venetian artist, the ancestor of Rococo, the episode with the discovery of the pregnancy of a pretty nymph became an occasion for admiration for the sensual beauty of beauties. Their bare bodies, shown in different angles, make an exquisite pattern in the central part of the canvas. The elegance of the pose stands out the great goddess-hunter (her attributes are demonstrated – a spear in her hand, a dog at her feet).
Researchers are inclined to attribute the refinement of female physique chosen here to the influence of English painting exerted on Ricci during his stay in London. While working on the canvas, he, along with his nephew, Marco painted Burlington House (today – the Royal Academy of Arts). In the landscape (and this is a sign of a new style), the forms seem to dissolve by means of weightlessly light, vibrating strokes. That is how the decorative component of rococo was affirmed."