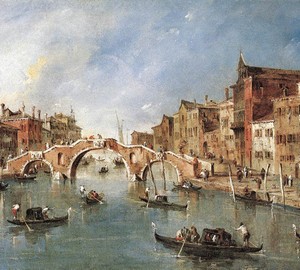 Description of the picture:
Three-arched bridge – Francesco Guardi. 1765-1770.
This canvas is filled with an abundance of small details of the daily life of Venice of the 18th century. It depicts a unique bridge in three different-sized arches, thrown over the canal in Cannaregio – one of the historical canals of the town. This area is the most crowded, the ghetto is located in it, but this did not bother the master. For him, enthusiasm was represented not only by the "ceremonial", chic parts of Venice, where it was as if flaunting the wealth and well-being of the peaks of society, and even the poorest areas.
In Cannaregio, whose name can be translated as "the big canal" or "the big ditch", there is no luxurious architecture, like in Piazza San Marco, or beautiful palaces located along the Grand Canal. True, there is a bridge, and this is far from the "Rialto Bridge". Nevertheless, the artist saw a special beauty in this place – this is a kind of "wrong side" of Venice.
On both sides of the canal are small buildings only a few floors high. They are not distinguished by a particular richness of architectural details, there are no many carved elements on them, and linen hung after washing hangs from the windows. But they repeat the pattern characteristic of the whole city – a series of various buildings along the canals – the main transport arteries of the city.
The main detail in the picture is the original bridge. This is a simple transition from one side of the canal to the other, there are no structures on it and it is decorated modestly, but attractively. It is particularly interesting in its form. It has three arches – a large central and two symmetrical at the edges, smaller in size. The bridge is distinguished by an unusual top – its broken line contrasts strangely and at the same time combines with the surrounding landscape. This bridge does not seem alien in this place – it emphasizes the belonging of the modest region to Venice – a rich and prosperous city.
The work uses delicate and bright colors that perfectly convey the atmosphere of Venice – it is full of light, even when the sun hid behind the clouds, filled with sea breezes even in the absence of wind.
Light, free strokes of paint create the illusion of a quiet, mirror-like surface of water, in which lush and light clouds are reflected in a high sky. Numerous gondolas carrying passengers and cargo are scattered on the water, and people move along the banks of the canal. Everyone is busy with their usual activities. This is real life, forever captured by a talented artist."
Ремонт электричества своими руками