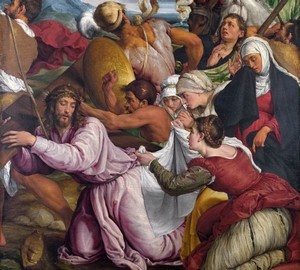 Description of the picture:
The path to Calvary is Jacopo Bassano. 1545-1550. Canvas, oil. 145 x 133 cm.
The painting depicts the famous moment from biblical tradition when Jesus Christ carried the cross on his own back along the way of the cross to the place of execution – to Calvary. At that moment, when he almost fell unconscious from exhaustion, the kind-hearted lady, named in the Bible by Veronica, gave him a plate or ubrus – a piece of spotless linen cloth. After Christ wiped his face from sweat, the imprint of his divine face remained on the circuit board. Plato Veronica is considered one of the largest artifacts of the church church and is stored in the Vatican.
In this picture, Bassano showed himself to be an amazing painter and colorist, master of details and chiaroscuro. Although the landscape occupies the smallest part of the canvas, it is also painted with great diligence and accuracy. Despite the gloomy and tragic plot, the picture is made in the artist's bright and cheerful colors. Jesus has a beautiful soft lilac tunic, while Veronica is dressed in the fashion of the Renaissance era in lush, multi-layered outfits of rich shades. The other characters of the canvas are just as colorful.
Separately, it is necessary to mention the complex composition of the picture. This is a characteristic feature of Bassano, but in this work she also managed to give the static image extraordinary dynamics. The diagonal arrangement of figures, outstretched arms, a falling cross, elongated running figures – all this gives the picture an unusual expression.
In a compartment with a great selection of colors and a thorough study of all the details, a complex composition is a very winning solution. The canvas can be viewed for a very long time, peering into the faces of people on which a variety of feelings are reflected – sorrow, pity, compassion, curiosity, indifference. The soulful face of Christ is especially striking. Despite suffering, it is bright, not distorted by torment, as if it were already in the kingdom of heaven."