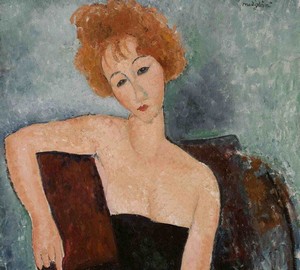 Description of the picture:
Red-haired woman in evening gown – Amedeo Modigliani. 1918. Oil on canvas. 116.2 x 73 cm
Amedeo Modigliani made a series of portraits, models for which were red-haired girls. Or maybe it was one and the same woman – in the case of Modigliani it is difficult to answer this question, because the painter did not pay enough attention to a certain resemblance to the portrayed hero, believing that it was most important to catch the inner essence.
The colorful model with reddish hair, as an artistic image, could not fail to attract the master, because Modigliani has repeatedly argued that color is a red-hot flame lava spilled on paper or canvas. The copper-haired heroine is perfect for illustrating this poetic thesis.
On the canvas, we see a sophisticated lady with a pretty figure and snow-white aristocratic skin. Her pose is imposing and liberated. She is seated on a chair, which Modigliani depicts somewhat schematically and sketched, emphasizing the forearm on the back. The heroine's hands are limp and relaxed, down to the hem of the dress. The evening outfit looks juicy, if not sexy – the shoulders are open, the black bodice focuses on the deepest neckline and on the narrow waist of the model. A full skirt adds femininity. Before us is a lady of not the richest layers (there is a slight negligence in the image, you can also notice the lack of jewelry), dressed for an evening out and as if not very enthusiastic about this. Rather, she is a little bored.
A rare case in the portraits of the painter – Modigliani does not exaggerate the lengthening of the neck of his model. She looks quite ordinary, except that the face is slightly elongated. The gaze immediately catches the fiery red hair, gathered in a high hairstyle, a little messy – several naughty strands descend on her high forehead. Another rare moment – the heroine's eyes are traced quite clearly. A gaze through narrowed eyelids is directed directly at the viewer. She seems to challenge everyone who looks at her. The master writes lips asymmetrically, because the girl's face conveys condescending and capricious emotions.
Modigliani draws open areas of the body with a rather thick black line (this is especially noticeable in the arms) so that the silhouette protrudes from the background of the picture as clearly as possible. The artist writes the background with wide, sweeping strokes, contrasting the heroine written in detail. The wall is a combination of blue, blue and white tones, which seem to sparkle in their frequent sloppy overflows. At the top of the wall, in its right part, you can see a small autograph of the painter."