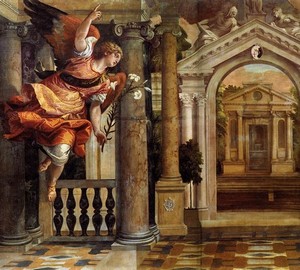 Description of the picture:
The Annunciation – Paolo Veronese. 1578. Oil on canvas. 271×541
"Annunciation" was written for Scuola Dei Mercanti (her coat of arms – a hand blessing the cross – shines in the middle of the composition, above the arch), the building of which is now located near the church of Madonna del Orto. Initially, the canvas was the central part of the triptych, its lateral canvases depicted Monochrome allegorical figures of Mercy and Bera (today – in the National Library of St. Mark in Venice). On the bases of the columns there are coats of arms of the customers of the canvas – the families of the Cadabrazzo and Koponi.
The composition is built as a theatrical performance in scenery with an architectural perspective. In the depths of the enfilade there is a small church, as if drawing in a magnificent space and reminiscent of the church of Santa Maria Novella in Vicenza, the city of Andrea Palladio, not only a great architect, but also the creator of magnificent scenic illusions that glorified the city's Teatro Olimpico."