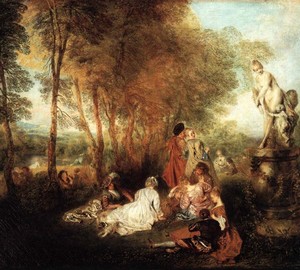 Description of the picture:
Celebration of love – Antoine Watteau. Around 1717. Oil on canvas. 61×75
Both paintings Watteau in the collection of the Dresden Gallery – "Society in the Park" and "Holiday of love"- in fact, written in one genre -" gallant festivities ". The presented canvas, apparently, even more openly interprets the erotic theme, which received in the art of Rococo unprecedented development. But how poetically the master presents things that, in the hands of another, not so delicately sensitive artist, would have turned into frank insecurity! No wonder Venus rises above this whole society with Cupid, who reaches for the arrows, but does not receive them."