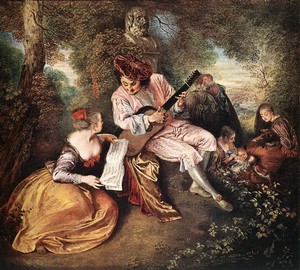 Description of the picture:
Love Song – Jean Antoine Watteau. 1715-1718. Canvas, oil. 50.8×59.7
Jean Antoine Watteau (1684-1721) – French painter, founder of the Rococo style. Since 1712, Watteau became a member of the Academy of Painting and Sculpture, founded in Paris in 1648, but for a long time did not belong to it. The paradox of the situation was that his paintings did not fit into any academic genres. The artist had to submit a number of paintings, until for "Pilgrimage to the Kiefer Peninsula" he was finally elected a full member in 1717.
The circle of images that Watteau occupied was already unusually popular in Parisian high society and possessed creative brains: there is practically no difference between, for example, the plots of the creator's paintings and the names of the harpsichord pieces by Francois Couperin (The Bells of Chiffer from Suite XIV, 1722). The main genre of the painter's work was "gallant festivities": an aristocratic society, located in the lap of nature, engaged in conversation, dancing, playing music and flirting. Picture "Love song"- one of Le Bass's engravings and included in the publication of Watteau's works, which a friend of the artist, Jean de Julienne, published in 1736. The work was called"Gamma of Love"And became very popular."