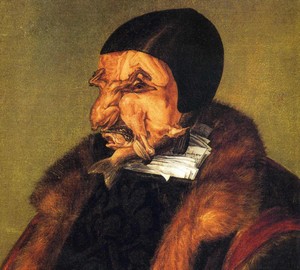 Description of the picture:
Lawyer – Giuseppe Arcimboldo. 1566. Oil on canvas. 64 x 51 cm
It was established that the image of a lawyer on the artist's famous canvas is not an abstraction, but a recognizable person, Ulrich Tsazius, a lawyer at the court of the ruler Maximilian II. The fact that an allegorical image is a portrait of a certain person only adds value to a unique work.
On the canvas depicts an old man in profile. He is dressed in a reddish-brown cloak with rich red fur trim. Under the cloak, he has a black lace camisole with a snow-white puffy collar. Upon closer examination, the outfit turns out to be a black folder with a pile of papers sticking out of it. The basis of all this is a pile of massive books on jurisprudence.
But the most interesting is the face of the character. It is completely made up of various products: the forehead and cheeks are half the boiled chicken, the lower jaw is a whole fish, the mouth is formed by a fish head, but the nose and even the eye is formed from a chicken carcass with a head and beak. His dark paws depict the lawyer's smartly curled mustache.
The original image of the face creates an extremely expressive and memorable image. In this work, avaricious but very effective image methods were used, which fully corresponded to the seriousness of the character's profession."