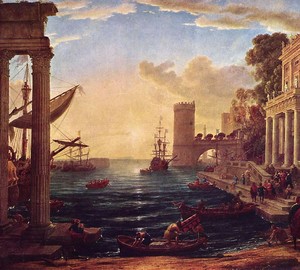 Description of the picture:
The departure of the Queen of Sheba – Claude Lorrain. 1648. Oil on canvas. 149×196 cm
The master of the "nonexistent" metaphysical landscape, the idealist and narrow aesthetic Claude Lorren, fully embodied his own rare gift in the picture with the "conditional" title "Departure of the Queen of Sheba."
The work was written to order, on a topic defined by the customer himself. However, the world got a masterpiece, where, like a living, the blue-green sea splashes, sparkling with a mirror surface and dissolving into the distance of a serene blue sky. Through the haze of translucent clouds, a radiant sun falls over the horizon, filling everything around with a golden amber light.
People in the foreground of the picture are working on loading the sailing ship "Queen of Sheba." A few high-ranking passengers of the sailboat, accompanied by the retinue, went to the embankment for sailing. The majestic architectural buildings in the Roman style are impeccably inscribed by the master in the landscape and thereby enhance its unreal beauty. Everything here is airy and beautiful, everything is harmonious and everything is in its place: every brush stroke, every glaze (transparent layer of paint). Before us, without a doubt, the best landscape of Lorrain."