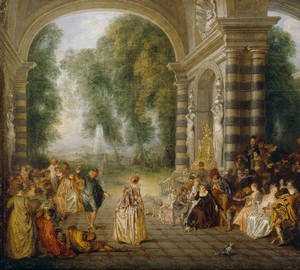 Description of the picture:
Ball Joy – Antoine Watteau. 1714. Oil on canvas 53 x 66 cm
The master of the so-called gallant scenes, Antoine Watteau, seems to have been able to reflect in his work all aspects of the life of his own society – from intimate boudoir plots and walks to social events and various entertainments. He did not pass by such a phenomenon as a ball.
Balls in France were a powerful and chic phenomenon. This is a good reason to show yourself, look at others, dance and have fun. Unfortunately, such a wonderful event was accessible only to the upper class, which obeyed strict etiquette associated with balls, however, by the end of his life, Watteau witnessed how the ball became available to other classes, less privileged. All classes could become the protagonists of these entertainments for a fee.
The canvas carries the features of the painter's style – a large free space, necessarily framed by some objects, such as solemn arches, nature resembling theatrical scenery, medium-sized figures of people and light spots that harmoniously distribute accents on the canvas. And the main merit of the picture is the spirit of gallantry, which testifies to the pinnacle of Watteau's creativity, conveying the elusive feeling of exquisite, sophisticated and skillful."