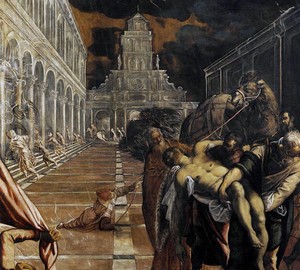 Description of the picture:
The abduction of the body of St. Mark – Jacopo Tintoretto. 1562-1566. Canvas, oil. 397×315
Tintoretto was one of many who made a significant contribution to the creation of "Marchiana." Saint mark – the most popular saint in Venice, was not only her spiritual, religious, Christian heavenly patron, but also the mythological "genius of the place." Therefore, the paintings dedicated to him were the implementation of a kind of state program that has been constant for centuries.
Under lightning flashes, the whole architecture of the square becomes a breathtaking spiritualistic vision and is transformed from a Vedut with a building view of St. Mark's Square into an accomplice of catastrophic action. In this mature work of Tintoretto, a new fundamental step of Venetian art was marked – painting skill in the perfect ability to build promising plans, sudden perspectives, create a living environment, show the breath of space in unison with the human combined with an intense search for the essential and symbolic forms of light. And here, with all the spectacle of the Tintorett compositions, an antitheatral, anti-decoration effect arises, which always implies a degree of detachment – an exciting sensation of the presence of formidable forces of the divine element. It is it that introduces a new content into the artist's figurative language, transforming the "Venice myth", filling it with drama, which reflects the fateful changes in the fate of the city and state. The image of a camel is noteworthy: it was made by an illusionist naturally, which sharply distinguishes this animal from its counterparts in the paintings of the older generation of the Venetian Renaissance. Here, the camel does not seem to be an enumerative "attribute" for creating an oriental entourage, the angle of rotation of his head conveys a general emotion that permeates the whole composition with restless currents.
In the history of Mark's martyrdom, told in the Golden Legend of Yakov Vorraginsky, the evangelist was captured by the Gentiles on Easter Day during the Mass, then dragged along a rope stretched around his neck through the city and imprisoned in the prison where Christ appeared to the sufferer at night, who, after greeting, comforted him. The next morning, the torture continued until the saint's last breath. The executioners intended to burn the torn body, but suddenly a storm broke out, a hail scattered the crowd, and Christians were able to take the shepherd who had died for the faith to bury him."