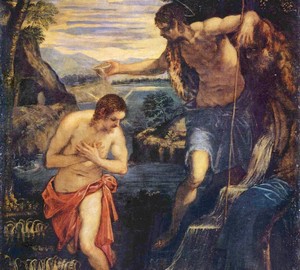 Description of the picture:
Baptism of Christ – Jacopo Tintoretto. Around 1585. Oil on canvas. 137×105
Skillfully mastering the drawing, able to convey complex angles, light accents, directions of movement, the Italian painter of the Venetian school Tintoretto (1518-1594) was able to overtake his own contemporaries with innovation and artistic courage.
In the canvas "Baptism of Christ" the master departed from the canons of icon painting. The picture was painted as if from nature. Jesus stands ankle-deep in the waters of the Jordan River and humbly bowed his head before John the Baptist. He, being on the shore, pours water on the head of Jesus. 6 this action is the difference between baptism by dousing and baptism by means of immersion in water. John's hand is holding a flat cup, while the hands of the Baptist are folded in the paintings of the northern masters. In the sky above the heads of the heroes the Dove of the Holy Spirit soars."