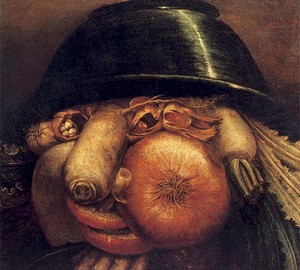 Description of the picture:
Gardener – Giuseppe Arcimboldo. 1590. Oil, wood. 35 x 24 cm
This small picture is a colorful embodiment of the master's figurative vision. Arcimboldo became famous for his unique ability to create portrait images composed of various objects. For this he was recognized as one of the earliest "progenitors" of surrealism.
The image of the gardener is expertly composed of objects directly related to his profession. His headgear is an inverted bowl or a wide black flower pot. The gardener's face is made up of many different root crops – large white radish, onions, parsnips and other vegetables, which in our times have become a rarity, and then were used everywhere. Many of them are captured with tops, which are designed to depict the beard and hair of the character.
In the picture there are not so many small details, well, and the image does not differ in that sophistication. And the theme here is extremely simple. The gardener is not an emperor who can be portrayed as an ancient deity, the associations here are much more "down to earth."
However, in this case, the artist was able to fully demonstrate his talent by using a sprig of mint as a decoration on the character's clothes. The upper part of the gardener's face is formed from unusual components – here is the head of garlic, half peeled hazelnuts and walnuts in the role of eyes with eyelashes and bushy eyebrows. It looks albeit unusual, but very original, especially considering the time of creation."