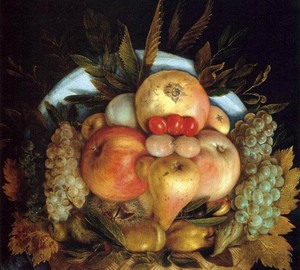 Description of the picture:
Head and fruit basket (Changeling) – Giuseppe Arcimboldo. 1590. Oil, wood. 56 x 42 cm.
Arcimboldo became famous as a master of allegory, but in this picture to his ability to create images of people from various objects was added and the ability to portray shifters. These are paintings that, in an inverted "upside down" position, make a completely different, but completely ordinary, meaningful image.
In this case, at the first glance in front of the viewer is a mundane still life. On it is an ordinary wicker basket, filled to the top with a variety of fruits. Ripe apples, pears, pomegranates, cherries, gooseberries, figs, edible chestnuts in a "shaggy" peel and numerous bunches of ripe white and black grapes are neatly stacked in it. In the background, the composition is shaded by a large round plate of light color.
But one has only to turn the "still life", as the picture turns out to be a skillful portrait. This is the head of a man in a wicker headdress (basket) and in an outfit with a lush white round collar (plate). His face is completely made up of fruits: his nose is a pear, his cheeks are apples, his pomegranate is his chin, his lips are scarlet, ripe cherries, and his eyes are made of olive and walnut. Grapes acts as a magnificent curly hair.
A funny picture required great skill, not only artistic talent, but also developed imagination and spatial vision. No wonder the work of this artist of the XVI century is considered the first examples of surrealism in painting."
Флагманский кроссовер BMW X7 подорожал в России ещё до старта продаж