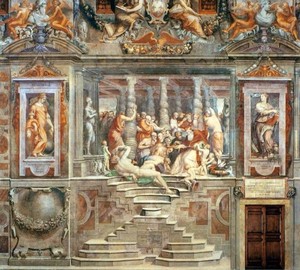 Description of the picture:
Paul III Farnese names the names of the cardinals and hands out Benefices – Giorgio Vasari. 1546. Fresco.
The monumental fresco of Giorgio Vasari in the Cancellaria palace in Rome is dedicated to the last Father of the Renaissance era – Paul III. The head of the church church became famous as a philanthropist and patron of art.
Vasari captured the moment when Paul read out the names of cardinals who deserved the honor to receive from him the benefits, in other words, a profitable position at the temple. Cardinals are honored with this merit, thanks to faithful and honest service.
The viewer sees how the Pope in purple robes with a white beard leaned over the list. Cardinals surround him – some are impatiently waiting for their name, while others, kneeling in gratitude, have already heard it from the Pope.
However, the main thing in the work is not the plot, but the embodiment. Vasari sought to create the effect of presence. He pushed the characters to the forefront, and at the feet of the viewer as if he had lowered a stone staircase. The fresco is also distinguished by the theatricality and a certain pomp, which exalts the deeds of the Pope, whom the author of the fresco very much respected. Luxury and nobleness beyond time – the main leitmotif of the majestic fresco.
It should be noted that today, Russian-speaking lovers and researchers of Vasari's work are in a worse situation than Italians. It is known that Vasari not only left biographies of outstanding artists of his time, but also carefully told about himself, describing in detail the work on his paintings. However, in the Russian translation today, only 12 biographies of the most significant painters are available, where the biography of Vasari himself, whom we consider more an art critic than a talented artist (which is unfair), was not included. There were attempts to publish in Russian all the work of the famous mannerist, but these translations were replete with inaccuracies and were considered unsuccessful.
Although one glance at this huge multi-figured complex fresco is enough to appreciate the work of Vasari and his undoubted genius."