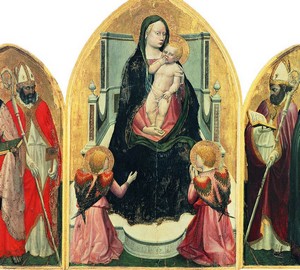 Description of the picture:
Triptych of San Giovaleale – Masaccio. 1422. Wood, tempera. Dimensions: central panel 108 x 65 cm, side panels 88 x 44 cm each.
Triptych is the first dated work of Masaccio, because there is an inscription on the bottom of the image confirming the moment of creation. On the central board of the triptych is the Madonna with the baby Christ in her arms, surrounded by 2 angels. On the lateral parts there are images of St. Ambrose and Juvenal, also St. Bartholomew and Blaise.
All three parts of the triptych have a golden background as a base – a corresponding feature of Gothic religious painting. The figures of characters are also gothicly shackled – straight as a pole, baby Jesus in the arms of the Virgin Mary, not very pronounced large folds of clothing, the strange position of the hands of the Madonna holding the baby's body. But the existing influence of the Renaissance is evidenced by the presence of a perspective that is reflected in the lines of the massive architectural throne and the marble base on which it is located.
The depiction of saints is even more canonical and strict, completely in the Gothic spirit. On the left wing of the triptych are saints Blaise and Bartholomew. These are two figures, almost occupying the entire space of the sash, in static poses, which somewhat enliven the diagonal arrangement of the bishop's baton of St. Blaise (Blasius). The Apostle Bartholomew, one of the first disciples of Christ, is depicted with the Bible in his hands and with a knife – a symbol of his martyrdom.
On the right wing are two more saints, Ambrose the Mediolan, also with a bishop's baton and an open Bible in his hands, and Saint Juvenal in dark monastic clothing. The directions of the bishop's wands on both wings of the triptych are almost mirror-like, which gives dynamics to this rather static image.
Despite the fact that the triptych clearly shows that the artist was still at the beginning of his career, his skill is read in the correct geometry of the throne, in attempts to correctly arrange the folds of fabric so that they emphasize the shape of the body, rather than hide them, in the selection of individual elements Images."