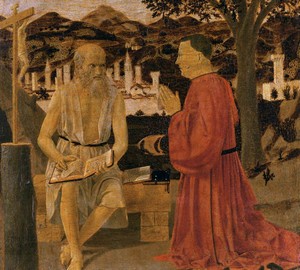 Description of the picture:
Saint Jerome with a donor – Piero della Francesca. Around 1450. Board, tempera. 49×42
Piero della Francesca (circa 1410 / 1420-1492) is one of the greatest artists of the Italian Quattrocento (Early Renaissance). The donor, in other words the customer of the presented image, was Girolamo (Jerome) Amadi, a representative of a wealthy family who moved to Venice. It was his family who contributed to the construction of the wonderful church of Santa Maria dei Miracoli in the city.
About Borgo San Sepolcro, in which the artist was born, in this work della Francesca "spoke" not only with an inscription on a cut tree trunk with a cross mounted on it ("Made by Pietro from Borgo San Sepolcro"), but also with a view of the town of central Italy in the Tiber Valley in the background."