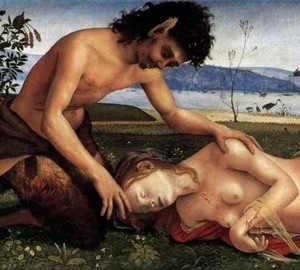 Description of the picture:
The Death of Procrida – Piero di Cosimo. C. 1495
On the frontal plane of the picture above a half-naked lady lying on the grass with a wound on her neck, she may already be dead, two of her faithful friends bowed – a satyr and a dog. The horizontal format of the picture allows you to show the perspective, namely the view of the coast along which different animals roam. The plot of this beautiful picture is not clear, but it is believed that the artist portrayed an ancient myth about the death of Procida, who died at the hands of her husband Kefal, who was jealous of her faun. Others consider this painting an illustration for the Renaissance poem by Niccolo da Correggio Cefal or some other work that has not survived to this day. In any case, not a single interpretation explains the absence of Mullet."