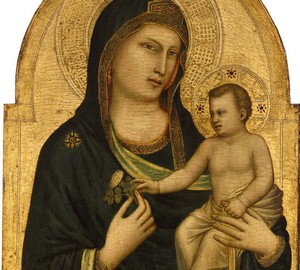 Description of the picture:
Madonna and Child – Giotto di Bondone. 1320-1330. Wood board, tempera. 85.5 x 62 cm.
The usual motive for church art – the image of the Virgin Mary with the baby Jesus in her arms – the painter converted into a hymn to motherhood and sacrifice. This is not just a depersonalized icon – it is an image of a mother and baby. The Virgin Mary is distinguished by recognizable facial features that can be seen in many of Giotto's paintings, which makes the picture even more close to people. She brings the Holy Virgin and her divine child closer to ordinary people, as the painter gave her a familiar face.
The icon is painted on a gold background, suitable for Byzantine type icons. But the image itself belongs to a new time. It is voluminous, expressive and very lively, completely different from that of saints who were frozen in fettered poses with a similar expression from earlier icons and paintings on a church theme.
The Madonna holds the baby Jesus in her arms, gently holding it to her with one hand. In another, she has a white rose – a symbol of her purity and innocence. The child reaches for her, looking at the flower. The Virgin Mary herself is looking at the audience, and her sad gaze reads the realization that her treasure, her child is doomed to a short life, full of torment, and to a terrible death on the cross.
It is interesting that the artist chose for the maforia of the Madonna – the robes in which she is usually portrayed – not the classic colors, red and blue, but deep green. It is the color of hope, life and rebirth. Her clothes are golden with a green tint, lapels and rich gold trim, and the child is covered with the finest translucent fabric with a luxurious gold border. Folds very realistically outline bodies, emphasizing their shapes and adding volume to the image.
For all its tradition, this picture seems to be a major breakthrough in church art. Instead of standard faces, real, full of life, expressive and recognizable images appear in it."