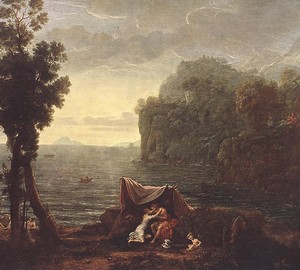 Description of the picture:
Landscape with Acis and Galatea – Claude Lorren. 1657. Oil on canvas. 100x1Z5
Deciding to make a seascape, Lorren (1600-1682) resurrected him with a mythological story with a Nereid or a sea nymph Galatea. This canvas, like other works by Lorren, would not have lost anything, remaining just a landscape, without any kind of literary plot.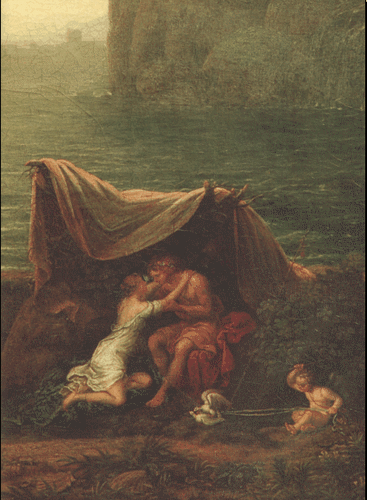 And yet, since there is a plot, it must be understood. According to Ovid's "Metamorphoses", Galatea loves the handsome young man Acis, but she was in love with the terrible one-eyed giant Polyphemus, who, sitting on a cape and looking out over the sea, played her a love song on his own pipes. Then, wandering inconsolably among the rocks, he found his beloved in the arms of an opponent. The lovers fled, and Polyphemus killed Acis in anger, throwing a huge boulder at him. Lorren portrayed several points of this story: Galatea sails to the shore on her boat, her sail is an attribute of the Roman spirit of Air; Polyphemus (in the picture, the figure at the top right in the mountains) plays his song on the syrinx (like any flute is a symbol of lust); in the tent Galatea and Acis enjoy the love."