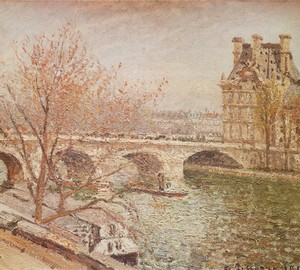 Description of the picture:
Pont Royal and Flower Pavilion – Camille Pissarro. 1903. 55×65
In the spring of 1903, Pissarro lived in a Parisian hotel on Ca Voltaire, from whose windows a view of the Seine and beyond, the wing of the Louvre, the Pont Royal and the Flower Pavilion, located on the other side. These "beautiful light motifs"as the painter calls them in a letter to the offspring of Lucien, will be the last landscapes of Paris that Pissarro captures. The picture "Pont Royal and Flower Pavilion" the master seems to be turning back to "Parisian motives" 1901, when he lived and worked on the Sita Peninsula.
This landscape is not much like a city: a vast place filled with water and sky dominates architectural motifs, seemingly pushing them to the background. The picture is flooded with transparent spring light, which is a whole gamut of gentle pastel colors. The texture of the canvas is heterogeneous, the strokes are wide, the colors are saturated, the colors are brilliant. This is the last work of the master, but we find no signs of fatigue in it, nor a hint of old age. The picture is filled with strength of mind and thirst for life."