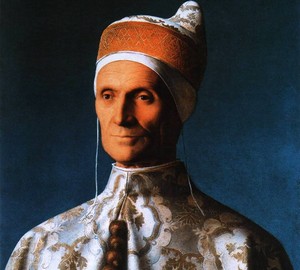 Description of the picture:
Portrait of Doge Leonardo Loredano – Giovanni (Giambellino) Bellini. Around 1501-1502. Canvas, oil. 61.6×45.1
The great painter, Giovanni (Giambellino) Bellini, the second offspring of Jacopo Bellini, the founder of the dynasty, has always been at the epicenter of the political and spiritual life of Venice. The master died at the age of 86.
"Portrait of Doge Leonardo Loredano" – one of the most extraordinary portraits in European art. On this canvas he is presented in official vestments, in which the rulers of Venice were usually depicted in ceremonial portraits. The work was written in the then-popular style of portrait busts, the standards of which were monuments of Roman sculpture.
The painting was made at the very beginning of the twenty-year reign of the Doge. His steel look leaves no doubt about the rigidity of future rule, marked by the almost unceasing struggle of the Venetian Republic with numerous enemies. A portrait has a magical effect: the longer you look at it, the more it rivets to itself. The Doge was not a monarch, king or king, but the viewer feels its exclusivity. And this is the exclusivity of personality, not of dignity."